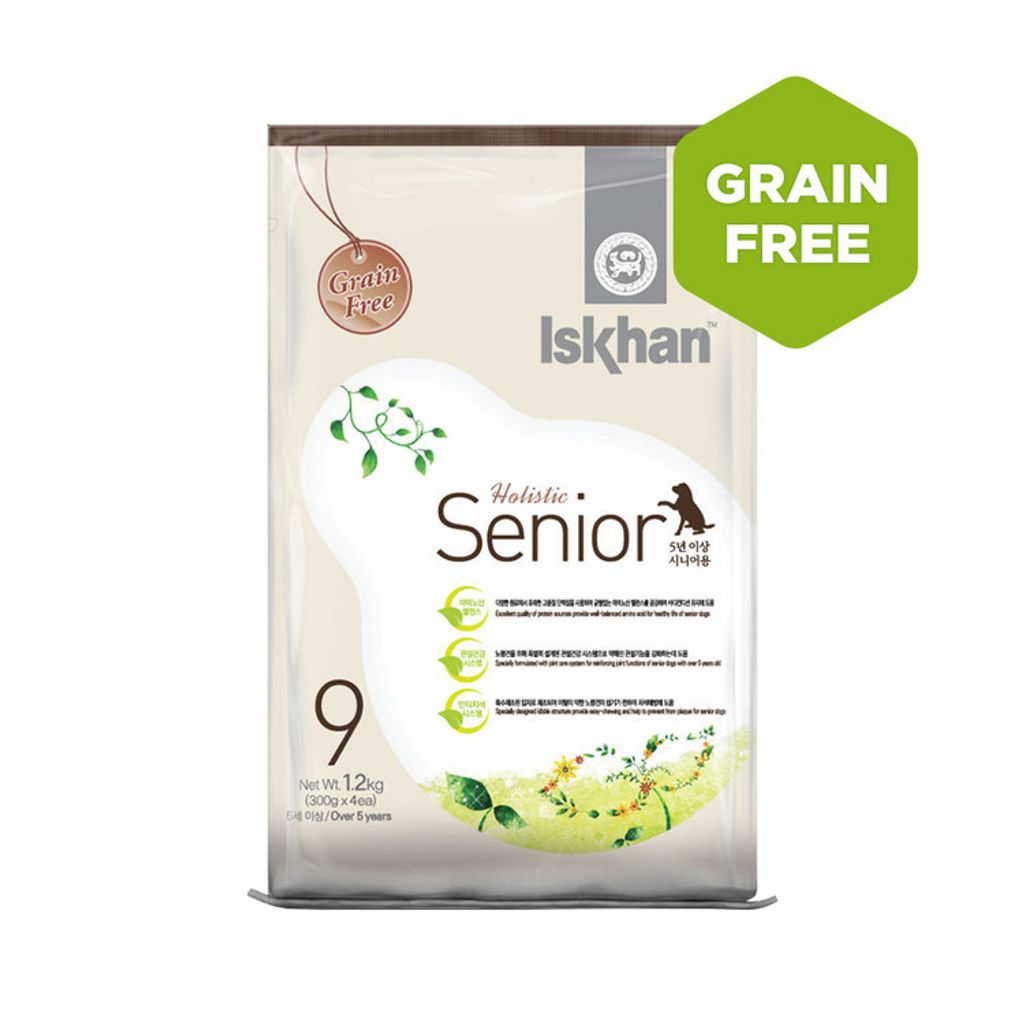 ISKHAN SENIOR HOLISTIC
Main raw materials
Raw chicken meat, chicken powder, tapioca, beet pulp, sweet potato, banana powder, meat powder (pork powder), hydrolyzed chicken powder, chicken oil, linseed, refined fiber, natural flavor (hydrolyzed chicken), hydrolyzed Soy protein, whole fish, dried egg powder, refined salt, dry beer yeast, conjugated linolenic acid (CLA), fenegric, vitamin preparations (vitamins A, B, etc.), trace mineral mixtures (zinc, copper) Etc.), L-carnitine, yucca extract, vitamin E (natural antioxidant), chelate mineral, protease (protease), FOS (prebiotics, fructooligosaccharide), glucosamine, chondroitin (mucopolysaccharide)
Feature of product
1. Use raw materials with high digestibility to suit the physiology of older dogs with low digestibility (hydrolysis protein source, digestive enzymes)
2. Providing balanced amino acids using high-quality protein derived from various raw materials for the health of the elderly dog whose muscles are in decline
3. Help prevent obesity by using elcarnitine, which promotes body fat decomposition, to prevent various adult diseases that may occur due to being non-cartoon
4. Glucosamine and chondroitin are used to strengthen the joint function of older dogs over 5 years old.
5. Balanced use of fermented / non-fermented fiber for strengthening digestive function and improving intestinal function and using probiotic flactooligosaccharide to help intestinal microbial activation
6. It is made of a grain structure that is not hard for an old dog whose teeth become weak, so it can be easily consumed.
Ingredients of the product
| | | | | | | |
| --- | --- | --- | --- | --- | --- | --- |
| Crude protein | Crude fat | Crude fiber | Inquiry | calcium | sign | moisture |
| 28.0% or more | 10.0% or more | 6.0% or less | 10.0% or less | 1.2% or more | 0.8 or higher | 12.0% or less |
-Calories: 3,500kcal / kg
Recommended pay period
5 years after birth
Particle size
(Statistics for 1 to 3 years) 10.0mm in width
---