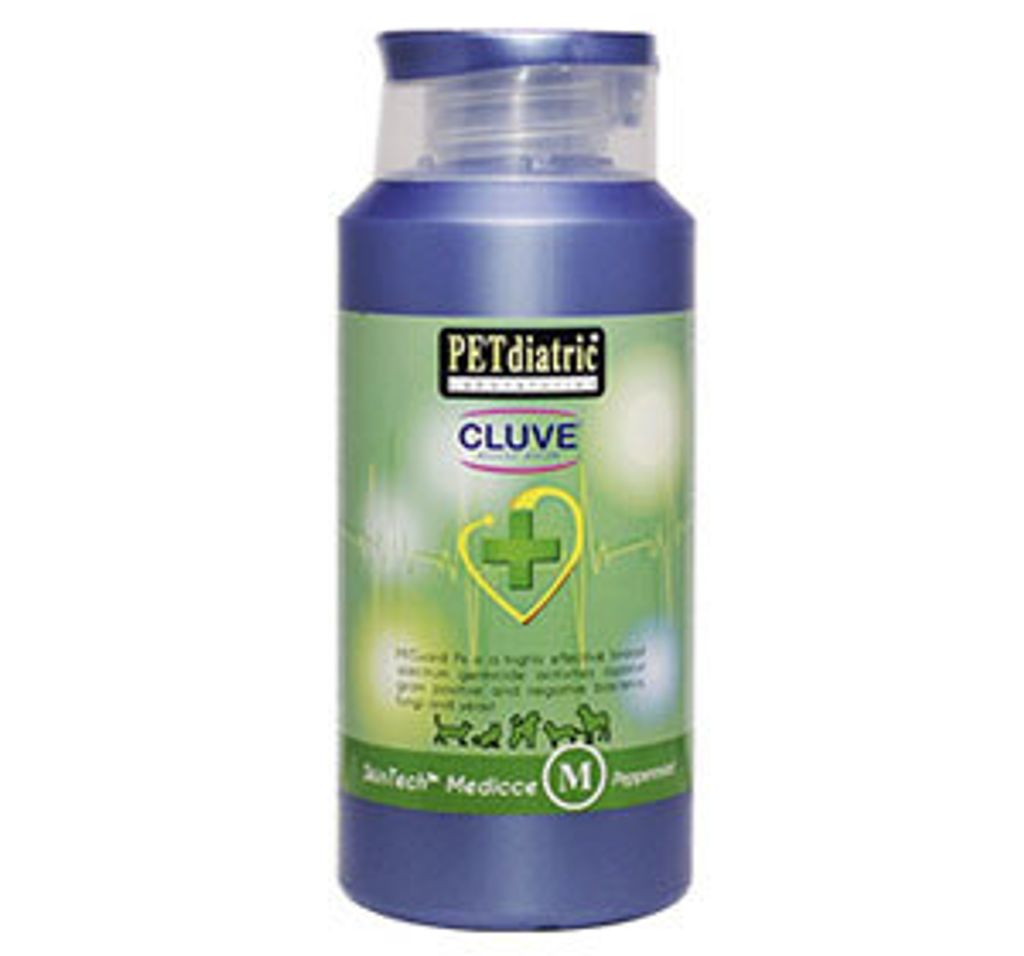 PET DIATRIC CLUVE PEPPERMINT OIL 280ML
Fast rapid action for irritated skin solution
CLUVE Medicce system is our approach to suppress irritation symptom in pets skin externally. The holistic approach in providing a solution for skin irritations for dogs and cats.
MP (MEDICCE PEPPERMINT)
---
Rapid Action Formulation
Blended with natural Peppermint Oil, it is targeted for stubborn irritation and to calm the inflammation on your pet skin naturally. Cluve Medicce MP contains 1.5% Chloroxylenol, 1.5% Salicylic Acid and an extra 1.5% of Chlorhexidine for faster relief. Cluve Medicce MP is to target for a higher efficacy in relief of bacterial, yeast and fungal infected skin. It is also blended with an European conditioning agent for prolong usage without damaging the fur softness. Suitable to be use on dogs and cats with skin irritation. However, it is not advisable for cats to lick the shampoo during bath.
Usage Direction
Thoroughly wet the coat and skin surface with clean water. Apply the CLUVE Medicce shampoo at several points on the neck and along the back of your pet. Gently and progressively massage it into the coat and skin all over the dog or cat, using enough shampoo to raise a good lather (adding water where necessary if too dry). Work in around the head/neck andunderneath, followed by the front and back of the legs. Use a soft brush to massage deep into the skin of your pet. Shampoo the feet, using a small soft brush to get between the toes. Also use a sponge for the ear flaps and under the tail. Work well into the skin, as this harbours the organisms that cause the infection. Pay close attention to the ear flaps, lip folds and worst affected areas. Ensure that you do not put the shampoo down the ears. Use neat shampoo, applied with a damp sponge or cotton wool, on these area. Take cautious care around the eyes, nose and mouth. Leave CLUVE Medicce on the coat and skin for at least ten minutes, before thoroughly rinsing with clean water. Use large amounts of clean, lukewarm water, to cleanse your pet to ensure a clean and thorough wash.
---