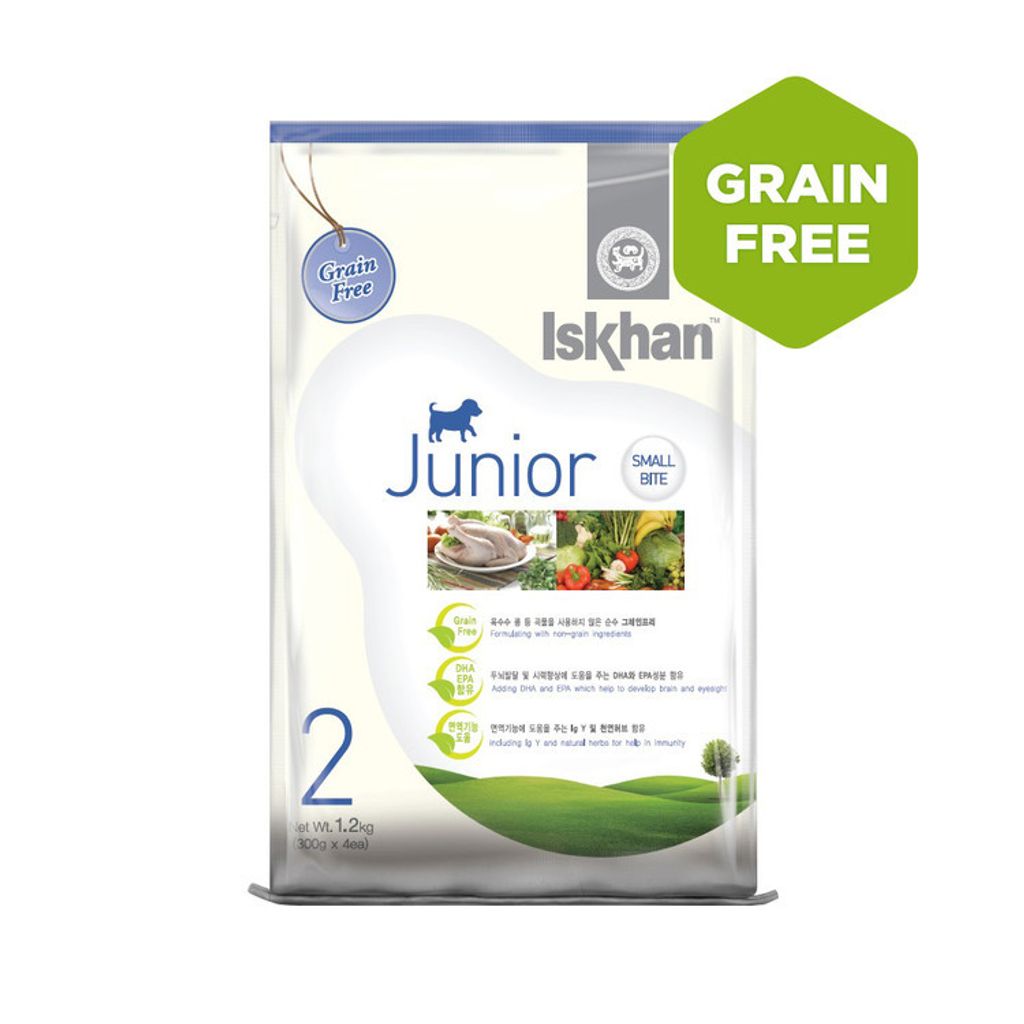 ISKHAN JUNIOR GRAIN FREE
Main raw materials
Raw chicken meat, chicken powder, chickpeas, lentils, peas, sweet potato powder, banana powder, hydrolyzed chicken powder (natural flavor), tomato, beet, broccoli, parsley, strawberry, orange, apple, mango, banana, chicken oil , Fish oil (salmon), refined fiber, egg powder, yeast, linseed, salt, DL-methionine, vitamin E, vitamin C, potassium chloride, vitamin mixtures (vitamins A, B, etc.), trace mineral mixtures (zinc, copper Etc.), organic tamine, tryptophan, protease (protease), probiotics, beta-carotene, fructooligosaccharide, natural herbal medicine, herbal medicine (thyme, turmeric, fenegric) garlic extract, yucca extract, egg yolk lutein, chicory inulin , Rosemary extract (natural antioxidant)
Feature of product
1.Grain free design helps with allergic symptoms that can originate from grain
2. It contains lg Y (immunoglobulin) and natural herbs such as turmeric, thyme and garlic to help immunity of young puppies.
3. Probiotics, natural herbal medicine, chicory inulin and fructooligosaccharides help intestinal health
4. Helps brain development and cardiovascular function by containing DHA and EPA ingredients
5. Maintains shiny and elastic hair with the content of salmon oil and flaxseed
6. As a carbohydrate source, chickpeas, lentils and peas are used.
Ingredients of the product
| | | | | | | |
| --- | --- | --- | --- | --- | --- | --- |
| Crude protein | Crude fat | Crude fiber | Inquiry | calcium | sign | moisture |
| 32.0% or more | 21.0% or more | 3.0% or less | 9.0% or less | 1.4% or more | 0.9% or more | 12.0% or less |
-Calories: 4,400kcal / kg
Recommended pay period
Until 12 months of age
Particle size
(Statistics for 1 to 3 years) 5.5 mm (small) / 10.0 mm (large)
---