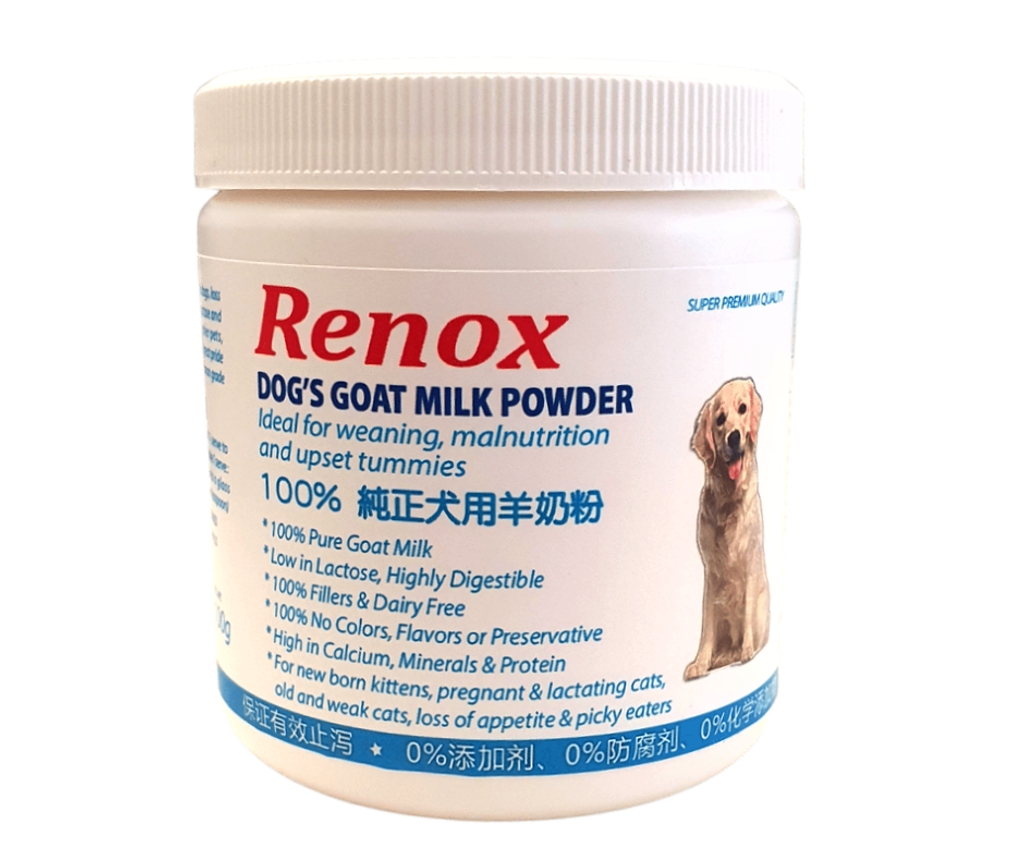 RENOX GOAT MILK POWDER 100G
Renox Super Premium Quality 100% Pure Cat's Goat Milk Powder has been carefully selected from only thefinest ingredients. Our formula is 100% filler and dairy free and contains no whey protein (a protein often associated with causing diarrhea). Our Goat Milk Powder contains a multitude of nutrients and is often referred to as the most nutrient dense bio-available food source, making it ideal for weaning, malnutrition and upset tummies.
It is hygienically through freeze frying of pure goat milk immediately after milking. This will retain its freshness and light natural flavor. It is high in calcium, minerals and protein.
It is easier to digest, because it has softer curds and smaller fat globules compared to cow's milk. High in immunoproteins(albumins, lactabumin, lactoferrin), to
stimulate immune response to build lean body mass and improves complexion.
It is highly recommended for new born kittens, pregnant and lactating cats, old, sick and weak cats, loss of appetite and picky eaters.It is low in lactose and highly digestible. Also perfect for all other pets, livestock and wildlife of all ages. We take great pride in the fact that our Goat Milk Powder is human grade and is 100% filler free.
▶100% Pure Goat Milk
▶100% Netherland Made
▶Low in Lactose
▶High Digestible
▶Free from Fillers, Colours, Flavours, or Perservative
▶Halal
Renox超级优质100%纯猫山羊奶粉仅从最优质的原料中精心挑选。我们的配方是100%不含填料和乳制品的,不含乳清蛋白(一种经常引起腹泻的蛋白)。我们的山羊奶粉含有多种营养素,通常被称为营养素含量最高的生物可利用食物来源,使其非常适合断奶,营养不良和肠胃不适。
挤奶后立即冷冻油炸纯羊奶是卫生的。这将保留其新鲜度和清淡的自然风味。它富含钙,矿物质和蛋白质。
它比牛乳更容易消化,因为它的豆腐更软,脂肪球更小。高免疫蛋白(白蛋白,乳球蛋白,乳铁蛋白)
刺激免疫反应,建立瘦体重并改善肤色。
强烈建议新生小猫,孕妇和哺乳期的猫,年老,病弱的猫,食欲不振和挑食的人食用,它的乳糖含量低且易消化。也适合所有年龄段的所有其他宠物,牲畜和野生动物。我们为我们的山羊奶粉是人类级的并且100%无填料而感到自豪。
▶100%纯山羊奶
▶100%荷兰制造
▶低乳糖
▶高消化率
▶不含填料,颜色,调味剂或防腐剂
▶清真
---